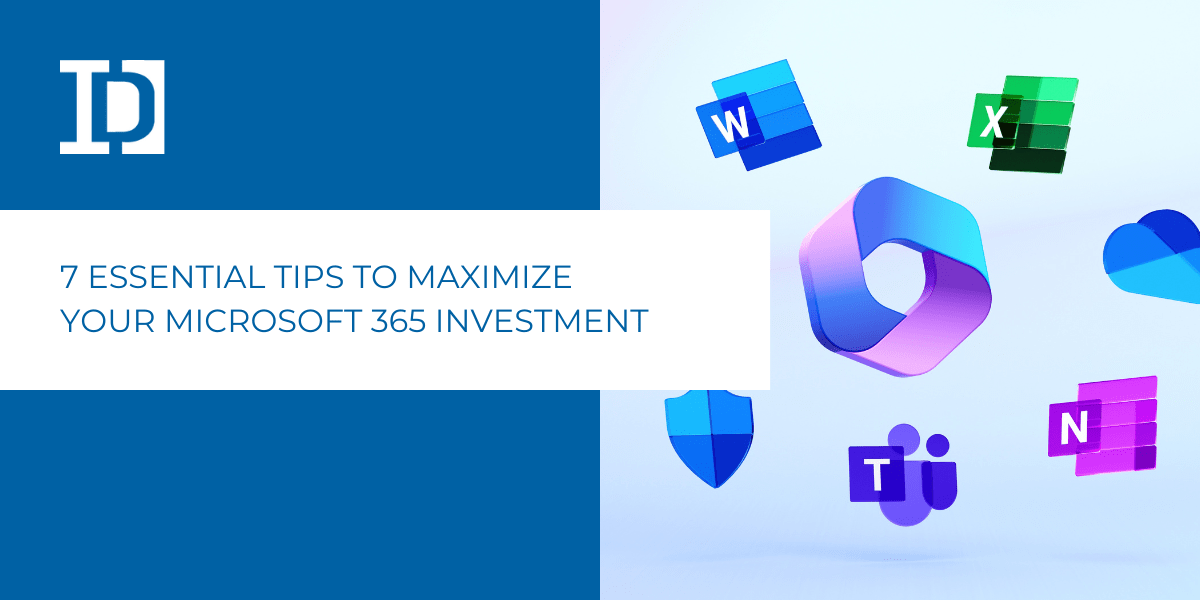 Microsoft 365 offers a comprehensive suite of tools and applications that can transform the way organizations collaborate, communicate, and manage their work. To make the most out of your Microsoft 365 environment and maximize your investment, it's essential to leverage the full potential of what Microsoft 365 offers. Here are seven fundamental tips to help you optimize your Microsoft 365 experience.
Microsoft 365 provides a range of powerful collaboration tools such as Microsoft Teams, SharePoint, and OneDrive. Organizations should embrace these tools to foster teamwork, streamline communication, and enhance productivity. Utilize features like shared document libraries, co-authoring capabilities, and real-time collaboration to facilitate seamless collaboration across teams, whether they are in the same office or working remotely.
Customize Your User Experience
Tailor your Microsoft 365 environment to suit your organization's unique needs. Customize your SharePoint sites, team workspaces, and Microsoft Teams channels to reflect your branding, structure, and workflows. By creating a personalized and intuitive user experience, you can enhance user adoption and make it easier for employees to navigate and utilize the available tools and resources.
Leverage Automation with Power Platform
Explore the Power Platform suite, which includes Power Apps, Power Automate, and Power BI. These tools empower non-technical users to create custom applications, automate repetitive tasks, and gain valuable insights from data. By leveraging automation and data visualization capabilities, you can enhance efficiency, streamline processes, and make data-driven decisions within your organization.
Ensure Data Security and Compliance
Safeguarding data is paramount. Utilize Microsoft 365's built-in security features such as Azure Information Protection, Data Loss Prevention (DLP), and Advanced Threat Protection (ATP) to protect sensitive information, prevent data leaks, and mitigate security risks. Additionally, ensure compliance with regulations such as GDPR or HIPAA by leveraging Microsoft 365's compliance features and implementing appropriate data governance practices.
Optimize Email and Time Management
Effectively manage your inbox and optimize your time using Microsoft 365's email and calendar features. Utilize features like Focused Inbox, Rules, and Quick Steps to streamline email organization. Take advantage of shared calendars, meeting scheduling tools, and task management features to enhance productivity, prioritize tasks, and collaborate seamlessly with colleagues.
Stay Up to Date with Training and Resources
Microsoft regularly introduces updates and new features to its products. Stay informed and make the most of these enhancements by exploring the training resources provided by Microsoft. Access online tutorials, documentation, and webinars to ensure your organization remains up to date with the latest tools and best practices. Microsoft Learn and the Microsoft 365 Blog are excellent resources for staying informed and continuously improving your Microsoft 365 skills.
Seek Expert Guidance and Support
Partner with experienced consultants or Microsoft Certified Professionals to ensure your organization is maximizing its Microsoft 365 investment. These experts can provide guidance on best practices, help with migrations, and assist in optimizing your environment based on your specific business requirements. By leveraging their expertise, you can overcome challenges, address complex scenarios, and unlock the full potential of Microsoft 365.

By following these essential tips, you can maximize your investment in Microsoft 365 and unleash the full potential of its tools and applications. Embrace collaboration, customize your user experience, automate processes, prioritize data security, optimize email, and time management, stay informed with training, and seek expert guidance. With these strategies in place, you can enhance productivity, foster innovation, and drive successful outcomes for your organization using Microsoft 365.