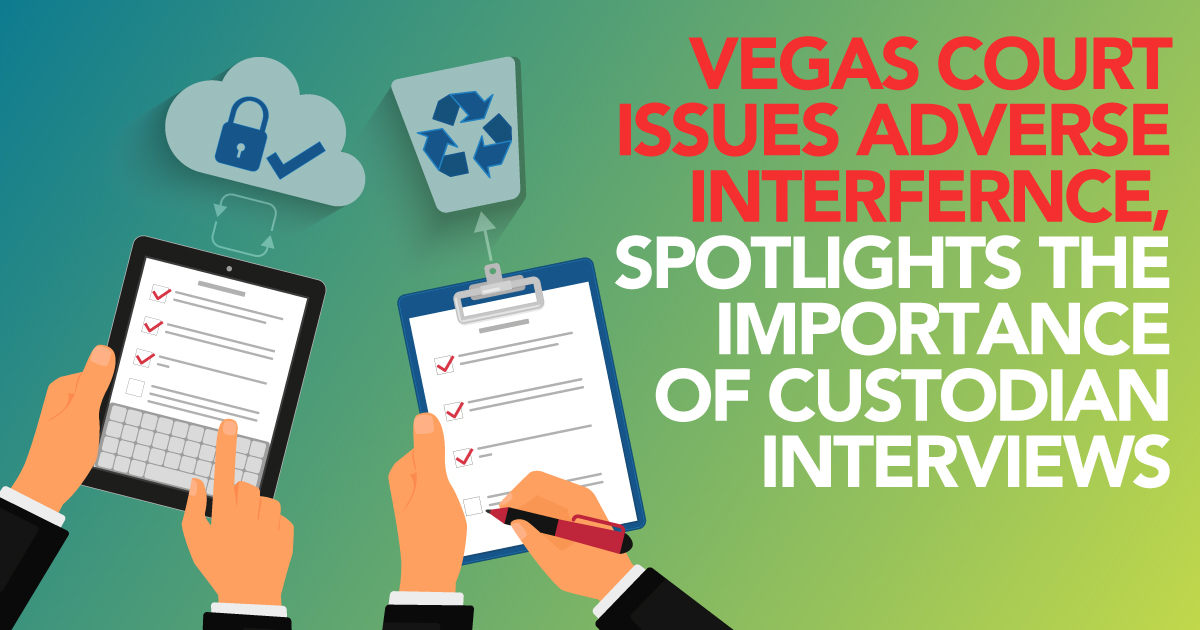 The summer of 2018 has been a boon for eDiscovery case law, with several courts spotlighting any number of best practices for addressing discovery issues. One such best practice is the role effective custodian interviews play in establishing a defensible preservation strategy. Fulsome custodian interviews are essential for ensuring that relevant electronically stored information (ESI) is preserved. Such interviews are characterized by exhaustive questioning on any number of topics including traditional and newer sources of ESI.
Properly conducted, custodian interviews should provide counsel with a thorough understanding of the nature and types of relevant information at issue in the litigation, together with the sources where that information is located. If custodian interviews are neglected or deficient, parties are vulnerable to data loss and court sanctions. As discussed in an article that Legaltech News recently published, the Small v. University Medical Center case is instructive on these issues.[1]
Small v. University Medical Center
The Small case involves class claims under the Fair Labor Standards Act. Plaintiffs claimed the Las Vegas-based University Medical Center of Southern Nevada (UMC) neglected to provide its hourly employees with compensation for skipped meal breaks. The suit arose from a U.S. Department of Labor investigation, which faulted UMC for failing to keep "accurate records" relating to the hours that its employees worked.
UMC's apparent difficulty in maintaining records was reflected in the litigation, with the University failing to preserve various classes of relevant electronic information. This included 26,000 text messages and 38,000 documents from a shared drive "containing human resources, corporate compliance, employee grievance, payroll, and DOL investigation data."
Defective Custodian Interviews Presaged UMC's Preservation Failures
The court found that UMC's preservation breakdowns stemmed in large part from its failure to conduct effective interviews of its employees. Counsel evidently did not interview custodians possessing relevant information at the outset of litigation. In fact, custodian interviews did not occur until after the court appointed a special master to investigate UMC's discovery shortcomings—20 months after the litigation commenced.
Once conducted, the interviews were deemed insufficient by the special master and (later on) the court. In its order, the court spotlighted some of the evasive answers that UMC's custodians provided. For example, UMC's director of human resources disclosed the existence of only one relevant timekeeping application despite having approved the use of other timekeeping systems for certain employees. UMC argued that its HR director was only obligated to disclose the timekeeping application he actually used:
[The custodian] did not use those applications himself and therefore had no obligation to disclose these systems in custodian interviews ordered by the special master because a "custodian interview is aimed at uncovering the applications, systems, programs, data with which the actual custodian interfaces." (emphasis added).
The court decried this limited notion of a custodian interview, observing that it failed to satisfy UMC's "legal obligation to identify, locate, maintain, and produce relevant information."
Severe Sanctions for Preservation Failures
At the court's direction, the special master made various findings on UMC's discovery shortcomings. In August 2014, the special master issued his report and recommendation, finding that UMC's destruction of relevant information "shock[ed] the conscious." Among other things, the special master recommended that the court impose a sanction of default judgment in favor of 613 class members on the Fair Labor Standards Act claims.
After four years of deliberating over the special master's report, the court finally issued its discovery order this month. The court concurred with the special master's findings, holding that UMC and its counsel failed to take reasonable efforts to identify, preserve, collect, and produce relevant information. Nevertheless, the court rejected the proposed sanction of default judgment, reasoning instead that a permissive adverse inference instruction would adequately remediate the harm caused by UMC.
Small Highlights the Importance of Effective Custodian Interviews
Small emphasizes the essential role of custodian interviews in the preservation process. Interviews should go beyond cursory questioning and focus instead on identifying all sources of relevant information. Nor should they be limited to safe topics like "where can relevant messages be found in your email account" or "where are relevant documents stored on your laptop." Interviews should now include questions regarding the existence of information exchanged through new communications media or stored in online locations such as:
With such information in hand, counsel will better understand the nature and extent of relevant information in the client's possession, custody, or control. This should lead to proportionality-based determinations regarding production. It should also facilitate discussions with litigation adversaries and the court regarding preservation issues or other discovery questions.
By following the lessons on custodian interviews from Small, counsel should be able to more effectively preserve and produce relevant information in discovery.
[1] Small v. Univ. Med. Ctr. of S. Nevada, 13-cv-0298-APG-PAL, 2018 WL 3795238 (D. Nev. Aug. 9, 2018).