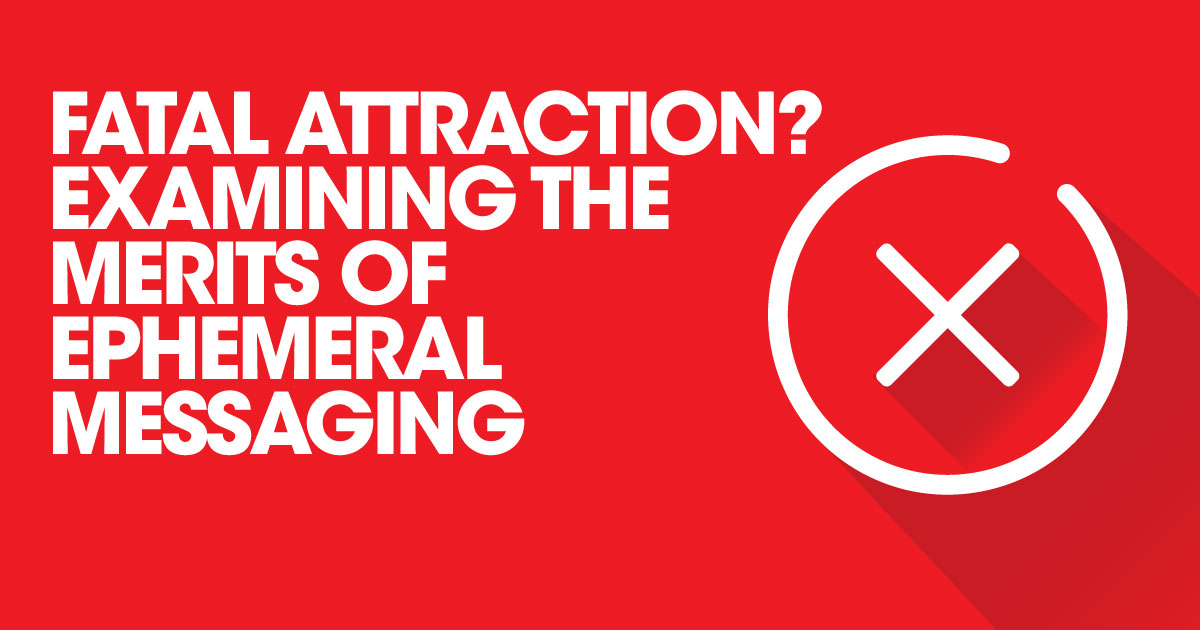 Mobile messaging applications are front and center today. News about the proliferating use of these applications seems to dominate headlines around the globe. Whether spotlighting their utility in advancing business objectives or ruminating over indiscretions shared through text messages, there is no getting away from the reality that messaging applications—for better or for worse—are a significant part of daily life.
Among messaging apps that have grown in popularity, perhaps none is as trendy as ephemeral messaging. And for good reason. With its ability to automate the destruction of content shared with others, ephemeral messaging offers organizations an intriguingly robust option to strengthen aspects of their corporate information governance programs. This feature, combined with the enhanced ability to communicate confidentially, make ephemeral messaging a viable communication option for companies and their employees.
However, the very aspects that make ephemeral messaging so attractive also pose significant risks that should not be underestimated. From problems with the perception of how this technology is being used to complications with government regulators, litigation adversaries, courts, and information governance programs, ephemeral messaging may arguably create more troubles than solutions for some enterprises. Indeed, adopting ephemeral messaging without examining its merits could be fatal to companies in certain regulated industries.
To avoid the possibility of a fatal attraction, organizations should examine the benefits and drawbacks of ephemeral messaging. Consider the following queries that apply to the use of this technology:
Can ephemeral messaging help control risks and costs for the organization?
How will government regulators perceive the organization's use of ephemeral messaging?
If the organization is under legal hold, can it still use ephemeral messaging and if so, under what circumstances?
Exploring these and other key issues will enable the enterprise considering this technology to make an informed choice about its use within the corporate environment.
To help organizations with this process, Driven has prepared a white paper that explores these issues and offers suggestions and guidance regarding the selection and use of such applications.[1] We invite you to visit Driven's resources webpage to obtain a copy of the white paper.
[1] A modified version of this white paper was first published in the June/July 2019 issue of Practical Law The Journal.