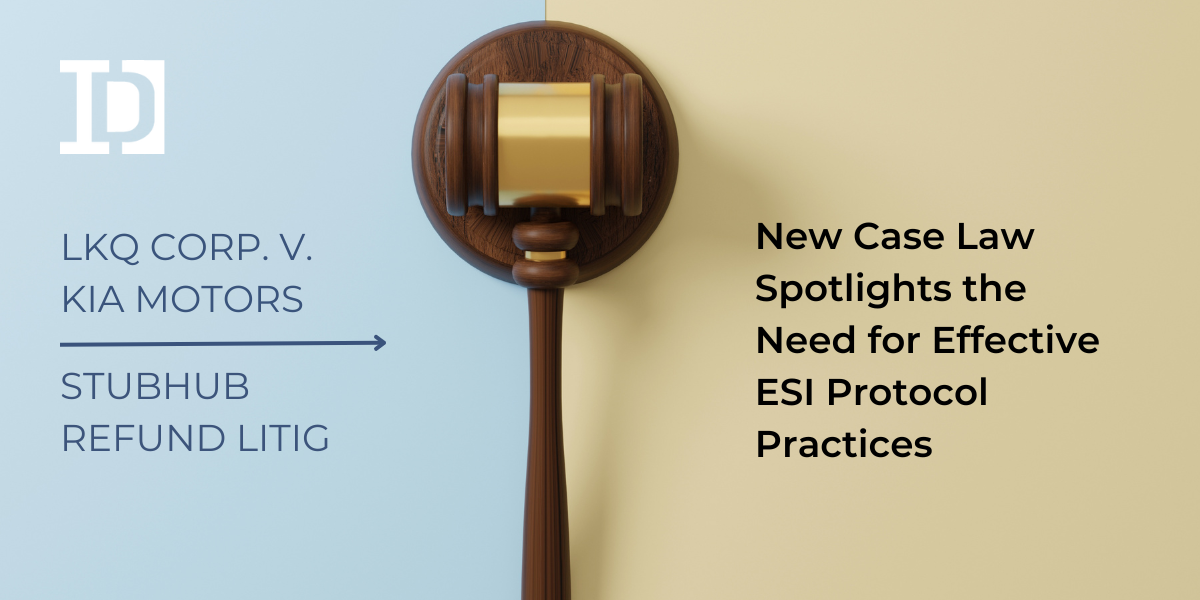 ESI protocols can be an effective method for handling basic discovery issues such as production formats. Nevertheless, even seemingly basic issues have become increasingly contentious, with litigants sometimes failing to stipulate to an ESI protocol. Moreover, in certain instances, attorneys may lack sophistication to address complex issues found in ESI protocols like family productions involving hyperlinked documents. These two trends—failing to enter into an ESI protocol and a lack of sophistication with ESI protocol issues—are evident in two recent cases, LKQ Corp. v. Kia Motors and In re StubHub Refund Litig., and emphasize the need for increased comprehension and competence regarding the issues.
LKQ Corp. v. Kia Motors – Failing to Enter into an ESI Protocol
In LKQ Corp. v. Kia Motors Am., Inc., 2023 WL 4365899 (N.D. Ill. July 6, 2023), the court discussed how plaintiff's motion for "discovery on discovery" could have been obviated had the parties proactively entered into an ESI protocol at the outset of discovery. The parties represented in their "Joint Initial Status Report" that they did "not anticipate any electronic discovery disputes." U.S. Magistrate Judge Sunil Harjani characterized this representation as "[f]amous last words." Defendant began producing documents shortly thereafter without an ESI protocol, which led to disputes and a motion from plaintiff seeking entry of an ESI protocol. Judge Harjani denied the motion, finding that entering an ESI protocol in the middle of discovery was not the right course of action. Instead, Judge Harjani ordered the parties to provide certain disclosures regarding their discovery efforts including a description of "their search process concerning custodians, timeframe, methodology of searches, and items produced."
While the purpose of the court's disclosure order was to generate "confidence" regarding the nature and extent of the parties' searches for responsive information, the order nonetheless led to disputes over defendant's production of ESI and the adequacy of its search methodologies. Plaintiff filed another discovery motion, this time seeking to compel defendant to meet its court-ordered ESI obligations. In particular, plaintiff complained that defendant did not provide details regarding its custodians and instead offered only vague descriptions of custodial "groups." In addition, plaintiff asserted that defendant's search disclosures were likewise evasive and lacked details on the search terms used to identify responsive information.
In response, the court again rejected plaintiff's request for discovery relief. Judge Harjani determined that defendant's disclosures regarding custodians and search methodologies were sufficient under the circumstances. Concerning the issue of custodians, the court indicated that defendant had done enough by generally referencing custodial groups and reasoned that its disclosure order did not require defendant to divulge specific names. On the issue of search methodologies, defendant provided sufficient details on the nature and extent of its respective searches even if it did not disclose search terms. Regarding each issue, the court observed that the parties could have required more detail had they memorialized it into an ESI protocol. Nevertheless, they had not done so, which Judge Harjani described as a "cautionary tale" on how parties might consider handling discovery going forward.
StubHub Refund Litig. – Lack of Sophistication on Family Production Issues
The court in StubHub Refund Litig., 2023 WL 3092972 (N.D. Cal. Apr. 25, 2023) ordered defendant to produce emails and the hyperlinked documents referenced in those messages in family relationships. In contrast to LKQ, the parties in StubHub stipulated to an ESI protocol that the court subsequently entered as an order. The protocol included a family production provision. Beyond producing traditional attachments in families, the parties agreed to produce hyperlinked documents from cloud repositories "as separate, attached documents" in family relationships with the emails referencing the linked documents. Further clarifying that family productions included such content, the ESI protocol defined "child" documents to include both "hyperlinks to internal or nonpublic documents."
In the face of such straightforward language from the ESI protocol, the court found that defendant's family production efforts were "incomplete" and its justifications for noncompliance "improvised." Although defendant had produced relevant information from its Google Drive repository, it did not preserve family relationships between emails and linked documents pursuant to the ESI protocol. In addition, defendant had not conducted searches for relevant content on SharePoint or Tableau even though those sources were clearly at issue as memorialized in the parties' briefing. While defendant offered several reasons for its noncompliance ("Maybe the document was moved to a different place; maybe email encryption methods have changed, rendering the links untraceable . . . Loss of personnel, a change in document systems, the difficulty of versioning in Google documents"), the court found all of them meritless in the face of the ESI protocol's straightforward family production directive.
Given these circumstances, the court held that defendant failed to satisfy the ESI protocol and ordered compliance accordingly. Alternatively, the court indicated defendant could seek an order modifying the ESI protocol.
Lessons on ESI Protocols
LKQ and StubHub collectively offer various lessons for handling ESI protocols for discovery.
First, LKQ spotlights the importance of having an ESI protocol in certain matters. As Judge Harjani emphasized, plaintiff in LKQ may have been able to obtain the level of detail it sought on custodians and search terms (and avoided multiple rounds of motion practice) had it entered into a protocol at the outset of discovery.
And yet, parties may not need or even benefit from having an ESI protocol in every matter. To be sure, it did not behoove defendant in LKQ to stipulate to a protocol that would have favored plaintiff's production wishes over defendant's production needs. Thus, the second lesson that LKQ spotlights is the importance of determining whether an ESI Protocol is necessary and if so, what provisions should be included. In certain matters, a protocol that only includes provisions regarding production formats and load files may suffice while other cases might require far more detail.
This leads into the final point, this time from StubHub: Counsel should either obtain understanding or engage ESI experts who can advise them regarding current trends with ESI protocols. Family productions of linked documents are only one of several complex issues that may predominate ESI protocol negotiations. Other issues could include data privacy, structured data, relevance redactions, metadata fields, email threading, ESI preservation, cooperation, and search. It may be that counsel do not have the expertise to handle protocols or other aspects of eDiscovery. In that event, clients will be better served by engaging experts who can provide direction on the issues at hand and ameliorate the problems that arise when parties agree to provisions without understanding the full nature of their corresponding obligations.