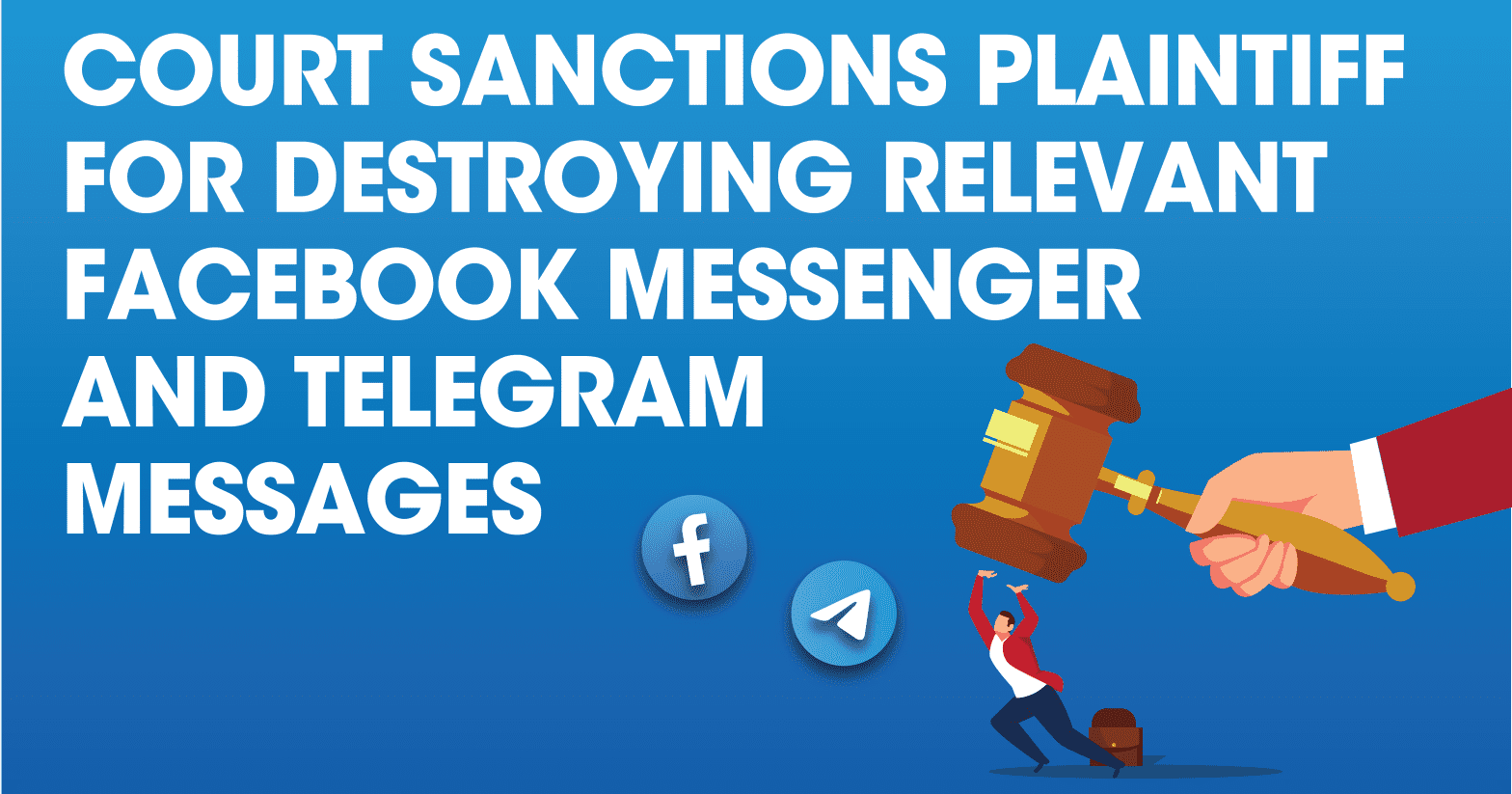 Parties have an obligation to preserve relevant ESI from ephemeral messaging applications and other digital age communication apps and information sources. Even though ESI from these applications is dynamic and thus easily subject to modification or deletion, parties must take reasonable steps to retain such information after a duty to preserve triggers. Failure to take such steps can leave a responding party—plaintiff or defendant—vulnerable to data loss and sanctions.
A new decision from Fast v. GoDaddy.com, LLC demonstrates the importance of this point.[1] The court in Fast sanctioned plaintiff for destroying relevant Facebook Messenger and Telegram messages, along with several other categories of ESI.[2]Fast teaches that parties should take reasonable steps to identify and promptly preserve dynamic sources of relevant ESI.[3]
Plaintiff Fails to Produce Relevant Facebook Messenger and Telegram Messages
In Fast, plaintiff sued defendant GoDaddy for discrimination, alleging the company improperly eliminated her position while keeping other, less qualified male employees to handle comparable work. Before GoDaddy terminated her employment, plaintiff began working with a colleague ("Mudro") to marshal evidence supporting plaintiff's claims against GoDaddy. Plaintiff and Mudro used Facebook Messenger as their principal form of communication; they also exchanged messages on Telegram, an ephemeral messaging application.
After the duty to preserve attached in May 2018, plaintiff exchanged hundreds of relevant messages with Mudro on Facebook Messenger and Telegram regarding plaintiff's strategy for pursuing litigation against GoDaddy. Because plaintiff's attorney apparently did not follow up with her client regarding the identification and preservation of relevant Facebook Messenger and Telegram messages, plaintiff evidently did not disclose the existence of those messages to her lawyer, nor produced them in response to GoDaddy's discovery requests.
Plaintiff "Unsends" Facebook Messenger Messages and Deletes A Relevant Message
Over three years into the litigation and just before GoDaddy took Mudro's deposition, plaintiff finally produced some Facebook Messenger messages involving Mudro that she previously withheld from discovery. Rather than produce all relevant messages, plaintiff used Facebook Messenger's "unsend" feature to recall 109 messages she previously sent to Mudro. Plaintiff's action effectively prevented Mudro from producing the original, unaltered messages in response to a GoDaddy subpoena. Nevertheless, Mudro produced timestamps indicating the dates when she received the 109 "unsent" messages from plaintiff, the contents of which were no longer accessible and replaced by the wording "this message has been unsent." After GoDaddy filed its motion for sanctions against plaintiff, she finally produced 108 of the 109 "unsent" messages in their original, complete form just days before Mudro's scheduled deposition—with one notable exception: Plaintiff permanently deleted a message memorializing an analysis she conducted with Mudro evaluating the strength of evidence supporting her claims.
Plaintiff Deletes Relevant Telegram Messages
The production Mudro made in response to GoDaddy's subpoena revealed for the first time that plaintiff communicated with Mudro on Telegram. While Mudro no longer had any Telegram messages, Mudro produced a screenshot of her account (as part of her production) confirming she was connected to plaintiff on Telegram. This was further established by the "unsent" messages plaintiff produced in connection with GoDaddy's motion for sanctions. Those messages demonstrated that plaintiff and Mudro almost certainly discussed matters relating to plaintiff's claims on Telegram:
Plaintiff
Download Telegram Messenger when you have a chance. I have done stuff I want to tell you
June 22, 2018, 2:13 PM
* * *
Lee Mudro
Ok I have telegram messenger downloaded
June 23, 2018, 3:49 PM
No messages involving Mudro were ever retrieved from plaintiff's Telegram application. Instead, plaintiff's Telegram account indicated that there are "[n]o messages here yet." According to GoDaddy's forensic expert, that notification signaled the existence of previously exchanged messages that Telegram had subsequently deleted.
Judge Campbell Issues Rule 37(e) Sanctions Against Plaintiff
In response to these and other instances of spoliation, U.S. District Judge David Campbell issued an adverse inference instruction against plaintiff pursuant to Federal Rule of Civil Procedure 37(e)(2).[4] Judge Campbell—who chaired the Federal Civil Rules Advisory Committee from 2011 through 2015 and oversaw the development of the 2015 amendments to Rule 37(e)—meticulously analyzed the rule's elements in connection with his sanctions order.
Regarding the "unsent" Facebook Messenger messages, Judge Campbell observed that the "unsent" message plaintiff deleted was clearly relevant. Judge Campbell explained that other messages exchanged between plaintiff and Mudro confirmed the "unsent" message was sent just before a deposition and reflected an evaluation of the evidence supporting plaintiff's claims. Judge Campbell concluded that plaintiff's elimination of this key message resulted in prejudice to GoDaddy under Rule 37(e)(1). Moreover, all of the circumstances surrounding plaintiff's deletion of the message—including the implausibility of plaintiff's explanation for the message's deletion (it was purportedly a personal message to her husband)—satisfied Rule 37(e)(2)'s intent to deprive standard.
Judge Campbell likewise ordered sanctions against plaintiff under Rule 37(e)(2) for improperly disposing of relevant Telegram messages with Mudro. Judge Campbell found that the circumstances surrounding plaintiff's use of Telegram to communicate with Mudro suggested their messages would have reflected relevant, responsive information. For example, after Mudro began using Telegram, plaintiff did not exchange messages with her on Facebook Messenger for five consecutive days. Nor were there Facebook Messenger communications between plaintiff and Mudro discussing the "stuff" plaintiff previously indicated she wanted to share with Mudro over Telegram. Finally, no messages were ever found on plaintiff's Telegram account. While plaintiff argued that the lack of messages ("no messages here yet") suggested she never communicated with Mudro on Telegram, Judge Campbell disagreed. In particular, the court spotlighted the automated disposition feature Telegram offers its users—"A hallmark of Telegram is that a user can delete sent and received messages for both parties"—and held that these collective details, supported by the testimony of defendant's forensics expert, met Rule 37(e)(2)'s intent to deprive requirement.
Preserving Relevant Data from Digital Age Communication Apps
The Fast decision is instructive on the need for clients and counsel to take decisive action to identify digital age communication applications that have relevant information. Because these applications offer dynamic features that allow users either manually, or through automated means, to delete information, lawyers should work with their clients to develop a plan for both identifying and preserving such information. In addition, attorneys should not assume users will exchange relevant communications using only one application or device. As Judge Campbell observed, "Plaintiff and Mudro regularly switched between messaging platforms, including text, email, phone, Slack, and Facebook, rather than using one platform exclusively." Given this reality, counsel should work to identify apps, platforms, and devices where relevant information may be found and then make reasonable and proportional preservation decisions from there.
Fast also teaches the importance of understanding the nature of any automated disposition features that may impact the preservation of relevant ESI from such applications. This is not a new concept. Courts have emphasized for years that counsel should become familiar with auto-delete functionality found on client email and storage systems and take proportional steps to disable aspects of that functionality if it impacts a client's ability to retain relevant materials. In like manner, lawyers should ascertain whether client communication apps have automated disposition features, determine whether aspects of those features can be disabled, and then take actionable steps to preserve relevant communications.