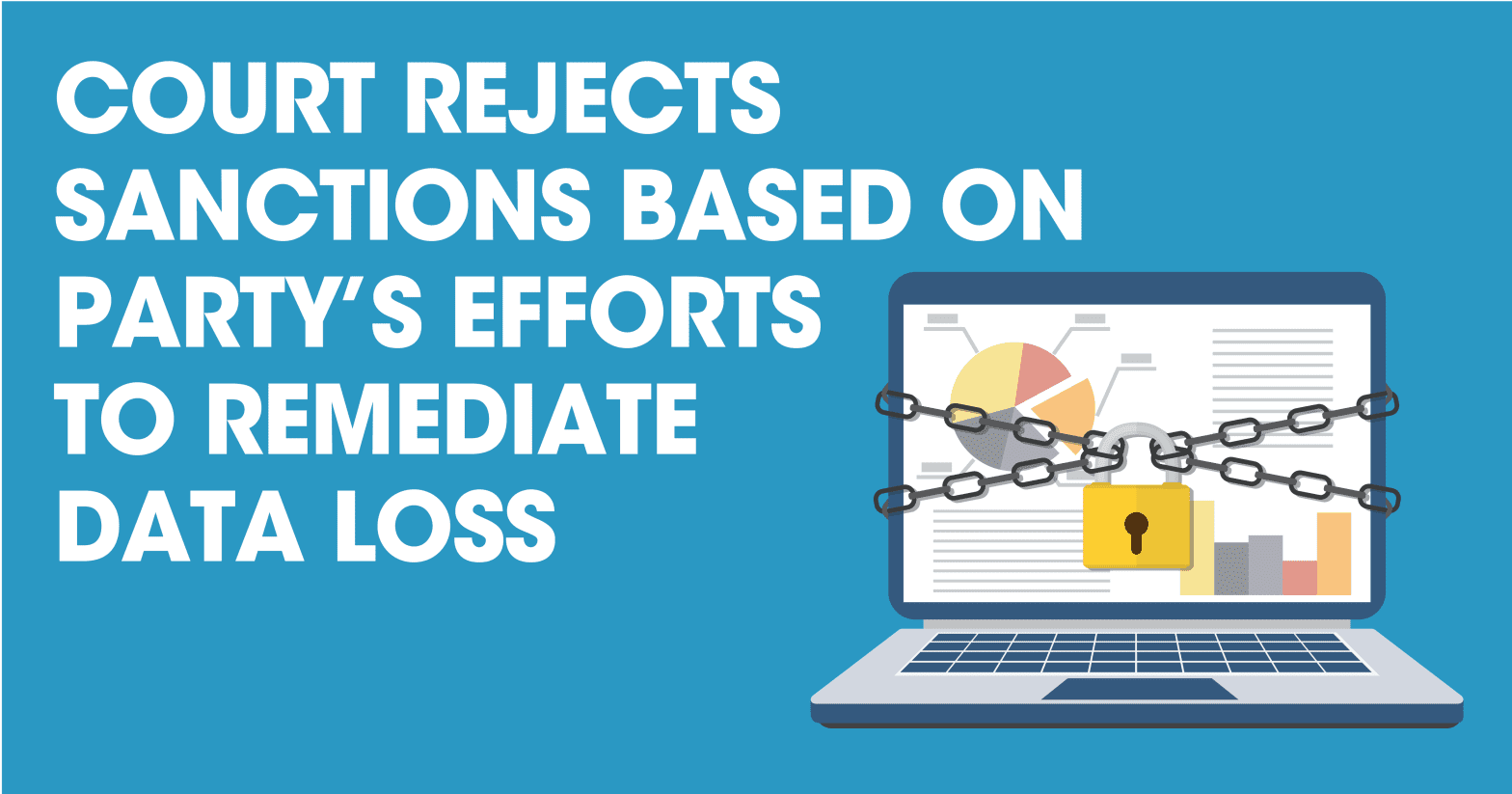 Litigation readiness for organizations generally begins with basic ESI preservation steps including litigation holds, relevant source checklists, and follow up steps with custodians. In some instances, however, the basics may not be enough. Given the frequency of data loss from custodial and non-custodial sources, companies should also consider incorporating remediation strategies into their approach to preservation to better ensure defensibility. Medidata Solutions, Inc. v. Veeva Systems, Inc. shows the wisdom of this approach. In that case, the court rejected a requested adverse inference against a corporate defendant even though one of its employees spoliated relevant ESI.[1] That defendant avoided sanctions was not the result of chance. The data loss remediation measures defendant took established the reasonableness of its overall approach to preservation and generally spotlight the importance of taking such measures.[2]
Defendant's Preservation Efforts
Medidata Solutions involves trade secret claims in which plaintiffs allege that five of their former employees took trade secrets with them when they began working for defendant (Veeva) and incorporated those trade secrets into Veeva's line of competing products. In response to plaintiffs' lawsuit, Veeva issued "a companywide litigation hold" to preserve relevant ESI on various information systems and computer devices. Among other custodians, Veeva directed the hold to an employee (Employee) who had also previously worked for plaintiffs, but whom plaintiffs had not identified as a key custodian.
In an effort to limit the scope of preservation, Veeva declined to search for relevant ESI that its employees might have in their personal repositories or devices. Instead, Veeva disclosed to plaintiffs that it would not search those locations. Plaintiffs offered no objections and then adopted the same approach for their discovery responses.
The Employee's Deletion of File Metadata
Two and one-half years into the litigation, Veeva's counsel learned that the Employee had hundreds of thousands of documents belonging to plaintiffs on a personal hard drive in his home office. Veeva immediately informed the Employee that he must hold the documents, notified plaintiffs about the development, and jointly arranged with plaintiffs for a service provider to take possession of and then analyze the Employee's personal hard drive.
Forensic analysis of the data, together with deposition testimony, revealed the Employee made additional copies of plaintiffs' documents and used those documents in connection with his work while Veeva was developing its product line that would compete against plaintiffs. In addition, the Employee—after Veeva specifically told him to hold plaintiffs' documents—copied and then deleted certain data relating to plaintiffs' documents. The Employee's actions eliminated "file metadata," which could have shown which of plaintiffs' documents he accessed for his work and the dates and times when he did so. Despite the harm caused, the parties were able to recover "many details of specific instances when [the Employee] accessed" plaintiffs' documents due to Veeva's remediation efforts.
The Court's Ruling
With critical evidence for their claims now gone, plaintiffs sought an adverse inference instruction against Veeva pursuant to Federal Rule of Civil Procedure 37(e). In response, the court denied the motion, holding that Veeva's preservation conduct was reasonable under the circumstances.
As an initial matter, the court found that Veeva took appropriate steps at the outset of litigation to hold relevant ESI including "general and individualized litigation holds." In addition, the court detailed the suitability of Veeva's subsequent remedial measures to identify and preserve relevant ESI in the Employee's personal possession. Once Veeva became aware that the Employee had copies of plaintiffs' documents, the court observed that Veeva straightway issued a hold, immediately got plaintiffs involved, and then took action jointly with plaintiffs to secure his hard drive for preservation and analysis. The court reasoned that plaintiffs had no evidence suggesting Veeva instructed the Employee to disobey the hold and eliminate the relevant file metadata. Indeed, the evidence reflecting Veeva's remedial actions all suggested otherwise.
Finally, the court dismissed plaintiffs' assertion that Veeva should have been more proactive at the outset of the litigation in identifying the documents in the Employee's personal possession. With the benefit of "hindsight," the court reasoned that such a decision now, of course, made perfect sense. But without such hindsight and viewed from the perspective of a typical litigant in this situation, the court held that:
Veeva's actions are consistent with the normal discovery process in complex civil litigation, in which general document holds are imposed on party employees, and then a huge number of attorney hours are expended reviewing millions of documents from dozens of custodians. Veeva's conduct was reasonable and consistent with its discovery obligations, and does not show negligence, much less any intent to deprive Plaintiffs of discoverable information (emphasis added).
Practice Tips Regarding ESI Remediation and Preservation Steps
Medidata Solutions offers three key lessons regarding the need for effective preservation measures in connection with an organization's litigation readiness.
First, litigants would do well to follow Veeva's prompt actions that helped remediate the harm resulting from the Employee's possession and spoliation of relevant information. Once it had a reasonable belief that a previously marginal custodian possessed materially relevant information, Veeva proactively investigated the issues, advised plaintiffs of this development, and acted cooperatively with plaintiffs to immediately preserve the information at issue. That the Employee disobeyed Veeva's express hold instruction does not impugn its conduct or the subsequent steps it took to further mitigate the harm. Medidata Solutions teaches that parties who promptly remediate harm can potentially safeguard themselves in subsequent sanctions motion practice.
Second, organizations should consider mapping out strategies in advance of litigation to help ameliorate problems arising from data loss. Given the dynamic nature of ESI, the unpredictable actions of employees, and the sheer volume of information, many cases will likely involve some form of data loss. Developing strategies in advance to address instances when data loss occurs as part of a litigation readiness plan will help organizations be better prepared to handle the issues.
Third, while effective preservation steps include issuing a prompt litigation hold and taking appropriate follow up steps, they may also include making proportionally-based preservation decisions. Veeva made a calculated, transparent choice that it would not search for relevant, responsive information in the personal possession of its employees. The transparency behind Veeva's decision insulated the company from subsequent judicial criticism, particularly after plaintiffs, in response, adopted an identical preservation strategy. Together with their counsel, organizations should similarly consider whether proportionally-based preservation decisions make sense and then work transparently with adversaries and the court in implementing those decisions.
no-repeat;center top;;
auto
BlogEntry
[1]Medidata Sols., Inc. v. Veeva Sys., Inc., No. 17 CIV. 589 (LGS), 2021 WL 4902462 (S.D.N.Y. Sept. 22, 2021).